CT-1P - Computerized Tonometer
The CT-1P, non-contact Tonometer is more stylish and compact than ever before. The flexible control panel enables the CT-1P to be installed in many different positions in the examination room. The CT-1P provides an innovative operation experience and eliminates the need of a control lever.

The CT-1P takes automated operation to a new level. Simply touch the center of the pupil on the touch screen control panel and the CT-1P automatically obtains right and left eye information immediately. The CT-1P provides an innovative operation experience and eliminates the need for a control lever.
The CT-1P uses the measured corneal thickness (CCT) in order to compensate the Intra Ocular Pressure (IOP) according to a default formula (which can be edited). This calculation ensures the correct IOP measurement values related to any corneal thickness.
The soft air puff used for measurement leads to less stress and more comfort for a patient and better compliance during the measurement procedure. The improved software controls the amount of air required for each individual eye.

The adjustable touch screen control panel enables the operator to be positioned anywhere around the patient because the control panel can be faced in a number of different directions. The CT-1P can be positioned in a conventional set-up, against a wall, or even in a corner of the room. The compact body enables the operator to support the patient easily from many different positions during measurement even when the patient's eye lid needs to be opened. These unique aspects will contribute to space saving and flexible lay-out in your examination room.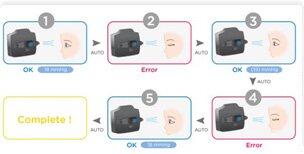 The additional measurement mode will save time and prevent extra work & inconvenience. The CT-1/1P will continue to measure until the required preset IOP measurement count is obtained.
Ex.) In this case, the preset count is 3 times.